Our goal as a full-service Digital Marketing Agency is to apply our passionate thinkers and creative team to work closely with each brand to create unique, creative strategies that produce effective results.
Since 2017, Digital4You has been working with small, and medium companies to help them find their one-of-a-kind message. We were born out of a strong desire to provide brands with the quality creative services they need in order to stay ahead — and we won't rest until we achieve those results.
We take the hassle from your shoulders, so you may focus on your business core.
Do you have time to think about the following:
​

How to be on the 1st page in Google (Search Engine Optimization)?

How to create Google, Social Media Ads, and get a return on investment?

How to make my brand recognizable?

What is important now in the digital world?

How to make my website user-friendly, at the same time nice and tidy?

How to build user traffic on my new website and turn it into new customers?
If you do not know how, or do not have time to make it happen we will do it for you.
The times may have changed, but our love for creativity and problem-solving hasn't. We're driven by technology and innovation to ensure we fulfil our key mission of helping our clients find their successful futures.
Get in touch so that we can kickstart your branding today.
Here are our current and past clients
Since we started our Digital Marketing Agency in 2017, we've worked on a vast array of creative projects with an even wider range of clients. See some of our previous projects and collaborators.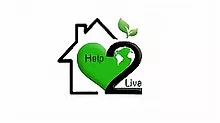 HELP2LIVE
Architecture & Construction